[Japan Post] Resumption and temporary suspension of acceptance, delivery delays of mail items destined to various countries/territories (Updated on July 29)
Our acceptance of various international mail items has been temporarily suspended due to the novel coronavirus pandemic.
For details on the countries and territories to which acceptance of mail is still temporarily suspended as of July 17, please see the appendix below (PDF).
▶appendix (As of July 17, 2020) (PDF file)
We continue to temporarily suspend acceptance of mail items destined to these countries and territories because their postal operators are still not accepting inbound postal items and/or our transportation performance remains significantly reduced due to reduction of flights from/to Japan.
Meanwhile, we continue to temporarily suspend acceptance of various mail items to the United States because we are unable to make any prospect for securing sufficient transportation capability for the time being.
In addition, because of the global reduction of flights, considerable delivery delays are expected for accepted outbound mail items.
We sincerely apologize for the inconvenience. It would be appreciated if you would kindly understand this situation in advance.
Pink Lady "Yu Aku's Portfolio" / ピンク・レディー「阿久悠 作品集」 (double "SACD single layer + CD" set)
[
SSMS-043/044
]
Pink Lady "Yu Aku's Portfolio" / ピンク・レディー「阿久悠 作品集」 (double "SACD single layer + CD" set)
[
SSMS-043/044
]
High-quality groovy sound reshapes your memories of PINK LADY.
Audiophile-grade single layer SACD(+CD) transferred from the ideal analog masters.
Since its release in 2008, "the collection of works of Yu Aku" is one of the most popular BEST CDs of PINK LADY. We now, with the full cooperation of the JVCKENWOOD Victor Entertainment Corp., release this BEST of PINK LADY as a re-mastered high-quality sound single layer SACD (+CD).
PINK LADY was, as you know, a very popular female duo in Japan and became a phenomenon from the middle of 1970s to the early 1980s. Their musical works have been released in various forms, started from analog record to CD and digital music distribution.
For starting the mastering, finding the best master source for the SACD was the most laborious part. Since some extent of age-related degradation or scratch and deterioration caused by repetitive playback cannot be avoided, we had to audition a number of analog original master tapes and cutting master tapes of analog record of PINK LADY's best albums which had been on sale through the 1970s and 1980s. After listening to over twenty master tapes, we found that the cutting master tape was the best to use as a master source.
Mastering at the STUDIO Dede whose engineers are the greatest in Japan.
On a certain day of April, 9 analog master tapes were brought to the STUDIO Dede; the STUDIO Dede is a prominent independent recording studio in Ikebukuro, Tokyo, which is equipped with ample recording equipment from vintage to the latest digital tools and engineers' deep knowledge of DSD. It is also well known to be the one of the first in Japan MERGING TECHNOLOGIES Pyramix and Horus were installed.
We have long been drawn to STUDIO Dede's high-quality musical works, especially by the hands of two engineers, Shinya Matsushita and Akihito Yoshikawa. You would find in their works―ranging from analog records to CDs, SACDs and to high-resolution source-full of dynamism and vibrancy. We believed that their deep understanding in the essence of music-a quality not so many studios in Japan retain-and their expertise and experience in the handling of studio equipment could make it possible to produce the ideal master source that meets our criteria.
The playback of the analog master tapes was done by Shinya Matsushita on STUDIO Dede's permanent equipment, TELEFUNKEN M21 1/4" tape recorder. And the mastering was done by Akihito Yoshikawa using MERGING TECHNOLOGIES Pyramix and Horus.
The mastering was carefully completed by Yoshikawa interpreting the essence of the music and thoroughly listening to not only the charming voices of Mi and Kei but also the highly skilled performances by musicians whom a composer and arranger Shunich Tokura had entrusted. The quality of the finished sound was so remarkable that it may reshape your experience and memories of PINK LADY.
We believe that this SACD(+CD) will surely satisfy you, including the listeners who had listened to PINK LADY's singles and LPs on a real-time basis.
Please play it on your audio component and enjoy its fresh and rich sound.
Accompanied liner notes includes the valuable interview with Teruo Yamaguchi, the original mixing engineer of PINK LADY, and the detailed report on the product process of the SACD.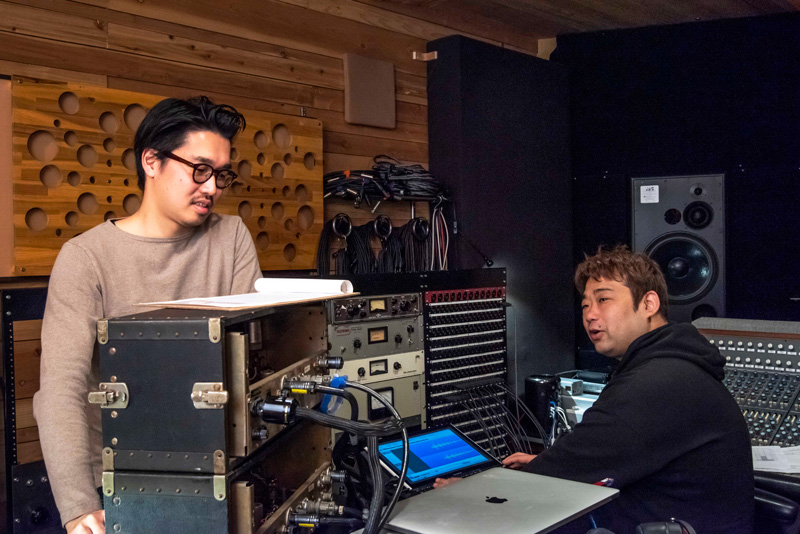 Staff of STUDIO Dede. The mastering of the SACD/CD of "PINK LADY―the collection of works of Yu Aku" was done in the STUDIO Dede in Ikebukuro, Tokyo. Shinya Matsushita, who operated tape playback (left). Akihito Yoshikawa, who did the mastering (right).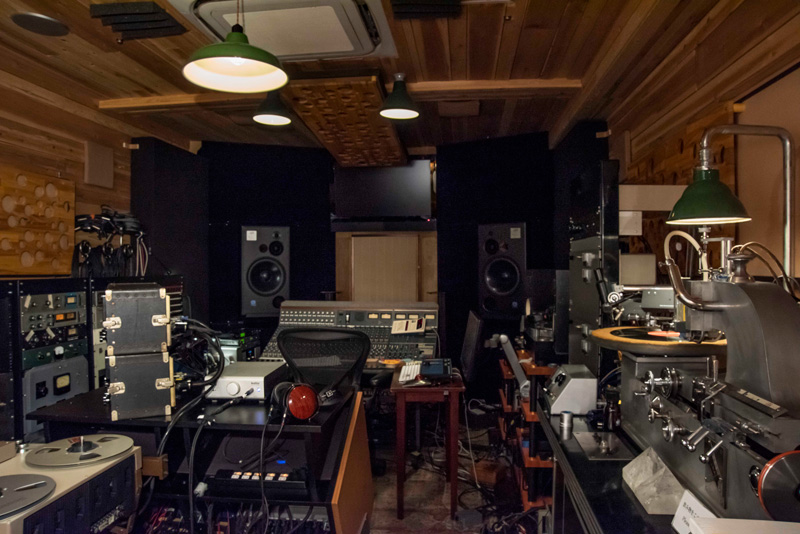 Mastering room of the STUDIO Dede, equipped with wide range of equipment from vintage to the latest digital tools. Scully lathe which was used to produce the analog record of Mayumi Itsuwa's "Koibito yo" released by Stereo Sound (front right).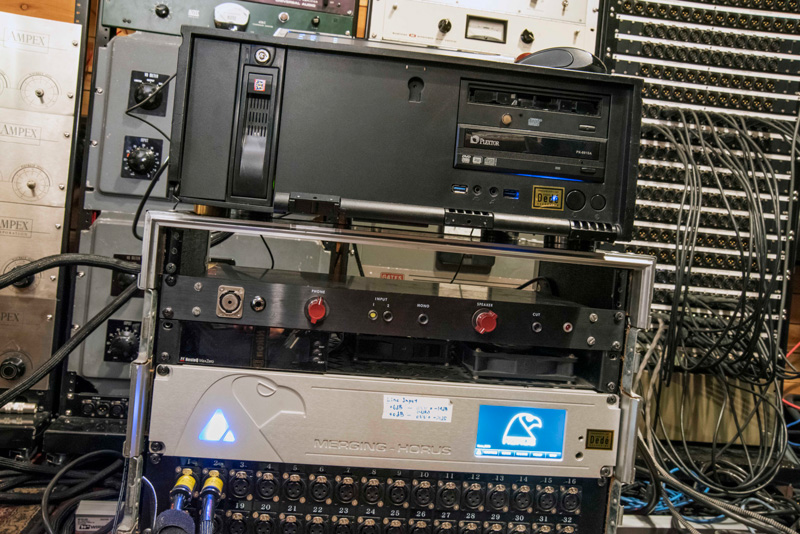 MERGING TECHNOLOGIES Pyramix and Horus used to produce the master source for the SACD (bottom: silver equipment). The analog master was digitized to DSD 11.2MHz, got mastered, and made to DSD 2.8MHz. For CD, using the same DSD 11.2MHz data, suitable mastering was applied.
収録曲
1.
ペッパー警部
Pepper Kibu
作詩:阿久悠 作曲:都倉俊一 編曲:都倉俊一
Lyrics: Yu Aku / Composition: Shunich Tokura / Arrangement: Shunich Tokura
2.
S・O・S
作詩:阿久悠 作曲:都倉俊一 編曲:都倉俊一
Lyrics: Yu Aku / Composition: Shunich Tokura / Arrangement: Shunich Tokura
3.
カルメン '77
Carmen '77
作詩:阿久悠 作曲:都倉俊一 編曲:都倉俊一
Lyrics: Yu Aku / Composition: Shunich Tokura / Arrangement: Shunich Tokura
4.
渚のシンドバッド
Nagisa no Sinbad
作詩:阿久悠 作曲:都倉俊一 編曲:都倉俊一
Lyrics: Yu Aku / Composition: Shunich Tokura / Arrangement: Shunich Tokura
5.
ウォンテッド(指名手配)
Wanted
作詩:阿久悠 作曲:都倉俊一 編曲:都倉俊一
Lyrics: Yu Aku / Composition: Shunich Tokura / Arrangement: Shunich Tokura
6.
UFO
作詩:阿久悠 作曲:都倉俊一 編曲:都倉俊一
Lyrics: Yu Aku / Composition: Shunich Tokura / Arrangement: Shunich Tokura
7.
サウスポー
Southpaw
作詩:阿久悠 作曲:都倉俊一 編曲:都倉俊一
Lyrics: Yu Aku / Composition: Shunich Tokura / Arrangement: Shunich Tokura
8.
モンスター
Monster
作詩:阿久悠 作曲:都倉俊一 編曲:都倉俊一
Lyrics: Yu Aku / Composition: Shunich Tokura / Arrangement: Shunich Tokura
9.
透明人間
Toumei Ningen (invisible man)
作詩:阿久悠 作曲:都倉俊一 編曲:都倉俊一
Lyrics: Yu Aku / Composition: Shunich Tokura / Arrangement: Shunich Tokura
10.
カメレオン・アーミー
Chameleon Army
作詩:阿久悠 作曲:都倉俊一 編曲:都倉俊一
Lyrics: Yu Aku / Composition: Shunich Tokura / Arrangement: Shunich Tokura
11.
ジパング
Zipangu
作詩:阿久悠 作曲:都倉俊一 編曲:都倉俊一
Lyrics: Yu Aku / Composition: Shunich Tokura / Arrangement: Shunich Tokura
12.
波乗りパイレーツ(日本吹込盤)
Nami nori Pirates
作詩:阿久悠 作曲:都倉俊一 編曲:都倉俊一
Lyrics: Yu Aku / Composition: Shunich Tokura / Arrangement: Shunich Tokura
13.
マンデー・モナリザ・クラブ
Monday Mona Lisa Club
作詩:阿久悠 作曲:都倉俊一 編曲:C.Merriam
Lyrics: Yu Aku / Composition: Shunich Tokura / Arrangement: C.Merriam
14.
OH!
作詩:阿久悠 作曲:都倉俊一 編曲:井上鑑
Lyrics: Yu Aku / Composition: Shunich Tokura / Arrangement: Akira Inoue
15.
カルメン・シャワー
Carmen Shower
作詩:阿久悠 作曲:馬飼野康二 編曲:馬飼野康二
Lyrics: Yu Aku / Composition: Shunich Tokura / Arrangement: Koji Makaino
16.
恋愛印象派
Renai Insho-ha
作詩:阿久悠 作曲:馬飼野康二 編曲:馬飼野康二
Lyrics: Yu Aku / Composition: Shunich Tokura / Arrangement: Koji Makaino
---
Mastering Engineer: Akihito Yoshikawa (STUDIO Dede)
Tape Operator: Shinya Matsushita (STUDIO Dede)

| | |
| --- | --- |
| Released | 24 May, 2020 |
| Format | SACD single layer (1disc) + CD (1disc) |
| Genre | Japanese popular songs |
| Product Number | SSMS-043/044 |
| JAN Code | 4571177052438 |
| Remark | Limited producttion, Stereo Sound Exclusive Sales Item (Also at some selected audio-shops) |