[Japan Post] Resumption and temporary suspension of acceptance, delivery delays of mail items destined to various countries/territories (Updated on June 30)
Our acceptance of various international mail items has been temporarily suspended due to the novel coronavirus pandemic.
Meanwhile, we will resume acceptance of mail items as noted below from July 1.
EMS and parcel-post/letter-post items by surface destined to China
EMS and parcel-post/letter-post items by air destined to Italy and New Zealand
Parcel- post/letter-post items by surface destined to Indonesia
For details on the countries and territories to which acceptance of mail is still temporarily suspended as of July 1, please see the appendix below (PDF).
▶appendix (As of July 1, 2020) (PDF file)
We continue to temporarily suspend acceptance of mail items destined to these countries and territories because their postal operators are still not accepting inbound postal items and/or our transportation performance remains significantly reduced due to reduction of flights from/to Japan.
Meanwhile, although dispatch of United States-bound items that have already been accepted will be completed soon, we continue to temporarily suspend acceptance of various mail items to the United States because we are unable to make any prospect for securing sufficient transportation capability for the time being.
In addition, because of the global reduction of flights, considerable delivery delays are expected for accepted outbound mail items.
We sincerely apologize for the inconvenience. It would be appreciated if you would kindly understand this situation in advance.
KOIBITO YO Mayumi Itsuwa (LP) / 五輪真弓「恋人よ」
[
SSAR-043
]
The tools were U.S.-made lathe and cutting head―a good match for LP.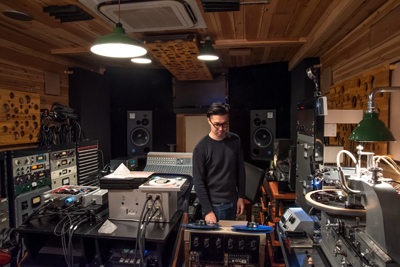 The cutting and mastering room of STUDIO Dede in Ikebukuro, Tokyo. Shinya Matsushita, a cutting engineer of STUDIO Dede, is still in his mid-30's but has a detailed knowledge of vintage equipment and provides maintenance by his own hands.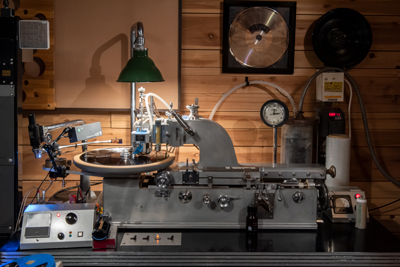 U.S.-made Scully lathe and Westrex cutting head, both in operation at STUDIO Dede. Equipment in the studio can be kept in good condition by due diligence and daily fine-tuning.
MAYUMI ITSWA's "KOIBITO YO" was originally released in 1980, and since then has been well known as her signature work. Following the hybrid SACD of "KOIBITO YO" [SSMS-036] released by Stereo Sound in January of 2020, an analog record of the same album, we are pleased to announce here, was introduced in April of the same year.

While the mastering of the hybrid SACD was done by Koji Suzuki of Sony Music Studios Tokyo, the production of lacquer discs of the analog record was entrusted to STUDIO Dede in Ikebukuro, Tokyo. Thanks to the full cooperation of Sony Music Entertainment Inc., we were granted exceptional permission to move the original master tapes to an outside studio and were able to produce the analog record.

For making the sound quality high enough to meet the need of audiophile, STUDIO Dede's engineers carefully played back the musical signal recorded in the original analog master tapes, and successfully uncovered further attractiveness and the quality still underlying in the original source.

The lacquers, master for production of LP, were produced by Shinya Matsushita, who is a cutting engineer of STUDIO Dede. Using the two TELEFUNKEN tape recorders―modified permanent equipment of STUDIO Dede―1/4-inch master tapes were once duplicated, then, with the Dolby A―a professional nose reduction system chosen by Matsushita―the noise in the background was carefully reduced during the playback. Thus, the master of the superb-quality LP of "KOIBITO YO" was completed.

It is also worth noting that the Scully lathe and Westrex cutting head, both are U.S.-made, were used for producing the LP. This well-fitted combination of vinyl record cutting tools made it possible to extract the recorded musical signals to the maximum and reveal the atmosphere and presence that had lain dormant on the original master tapes. Listened to the finished sound, you can clearly see the reason why MAYUMI ITSUWA and the production staff of "KOIBITO YO" at the time adhered to the recording in France.

The record pressing was done in the Sony DADC Japan Inc., a vinyl pressing plant in Shizuoka prefecture, Japan, which is reputed for its stable product quality. The more you increase the volume, the more you can feel straightforwardly the subtle beaty of the combinational harmony of MAYUMI ITSUWA's voice and backing, and can absorb her inspirational musical messages as if it spreads out in front of you.


収録曲
 [Side A]
1. 恋人よ / Koibito yo
2. あなたは突然に / Anata wa Totsuzen ni
3. ロマンプレイボーイ / Roman Playboy
4. ジョーカー / Joker
5. わたしの気持ちも知らないで / Watashi no Kimochi mo Shiranaide
 [Side B]
1. ジェラシー/ Jealousy
2. 想い出はいつの日も / Omoide wa Itsunohi mo
3. 思うままの女 / Omoumama no Onna
4. 春便り / Harudayori
5. 愛の蜃気楼(砂の城)/ Ai no Shinkirou (Suna no Shiro)
Cutting Engineer: Shinya Matsushita (STUDIO Dede)
Liner Notes: Koji Yamamoto
---
※Exclusive sales product. To purchase, order online at the Stereo Sound Store or well-known specialized audio shops across Japan. A limited number of products are available, and sales will end as soon as the products are sold out.
| | |
| --- | --- |
| Released | 7th April, 2020 |
| Format | Vinyl, LP (1 disc), 33 1/3 RPM |
| Genre | Japanese popular songs |
| Product Number | SSAR-043 |
| JAN Code | 4571177052162 |