[Japan Post] Resumption and temporary suspension of acceptance, delivery delays of mail items destined to various countries/territories (Updated on June 30)
Our acceptance of various international mail items has been temporarily suspended due to the novel coronavirus pandemic.
Meanwhile, we will resume acceptance of mail items as noted below from July 1.
EMS and parcel-post/letter-post items by surface destined to China
EMS and parcel-post/letter-post items by air destined to Italy and New Zealand
Parcel- post/letter-post items by surface destined to Indonesia
For details on the countries and territories to which acceptance of mail is still temporarily suspended as of July 1, please see the appendix below (PDF).
▶appendix (As of July 1, 2020) (PDF file)
We continue to temporarily suspend acceptance of mail items destined to these countries and territories because their postal operators are still not accepting inbound postal items and/or our transportation performance remains significantly reduced due to reduction of flights from/to Japan.
Meanwhile, although dispatch of United States-bound items that have already been accepted will be completed soon, we continue to temporarily suspend acceptance of various mail items to the United States because we are unable to make any prospect for securing sufficient transportation capability for the time being.
In addition, because of the global reduction of flights, considerable delivery delays are expected for accepted outbound mail items.
We sincerely apologize for the inconvenience. It would be appreciated if you would kindly understand this situation in advance.
Anzenchitai BEST Vol.2 (LP) / 安全地帯ベスト 第2弾
[
SSAR-044
]
---
Long-awaited second volume of the BEST of Anzenchitai is finally released!
The soul of Anzenchitai-sound is being carved into lacquer disc by Shigeru Buzawa, a prominent mastering engineer of NIPPON COLUMBIA, using the SX74 cutter head on Neumann's VMS70.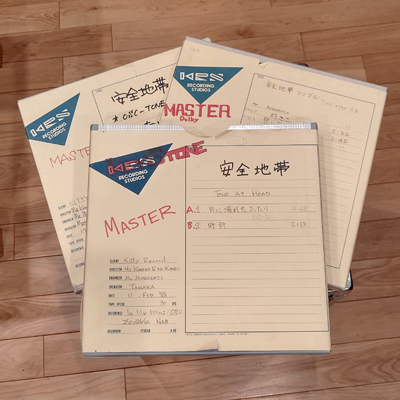 The sound of the half-inch analog master tape, from which "Tsuki ni nureta futari", the second track of side A, was transferred, is just deep and rich.
The second analog record of the BEST of Anzenchitai has at last been released this spring, including 10 songs that were specially selected―from their celebrated 14 original albums they had ever released―and composed by Stereo Sound for the purpose of listening especially on the high-end audio components.

The 8 songs among 10 of this analog record are the same tracks included in the hybrid SACD [SSMS-028] which was comprised of 18 tracks and released in 2019; these 8 tracks, track No.10 to No.17 in the SACD, were not included in the first LP [SSAR-040]. Other 2 songs,"Hitomi wo tojite" and "Orange", both Anzenchitai's hit ballads, have been added to the Vol.2.

The master sources used for the cutting are the analog master tapes and digital masters (track 3, 4, 9 and 10 were transferred from digital master) which had been well-preserved under the supervision by Universal Music Japan.

The playback of the precious analog master tapes was done by Shigeru Buzawa, who is the greatest mastering engineer of NIPPON COLUMBIA and has abundant experience in the recordings of numerous famed analog records, on the state-of-the-art equipment, the STUDER A80 tape recorder and A820 mastering recorder, which had been meticulously tuned by NIPPON COLUMBIA. The suitable equipment, A80 or A820, was respectively chosen for each master source according to its condition. In order to make the sound faithful to the original recordings at the time, Buzawa precisely adjusted the cartridge azimuth of the equipment each time and was successfully able to have the sound quality of analog master spring back to life of its best condition.

On the other hand, the digital master was processed by the ORT (Overtone Reconstruction Technology) mastering, a mastering method developed by NIPPON COLUMBIA, and made to PCM96kHz/24bit and then, by dCS 952 D/A converter, converted to analog signal.

Thus, Anzenchitai's precious studio-sound has been awaken by the greatest engineer from over 30 years slumber, being gone through the bespoke analog console made by NIPPON COLUMBIA, and evolved into the "reborn sound" with its fresh grooves being carved into lacquer discs.

All copies have, using the specialized vinyl plastic as raw material, been directely pressed from the first metal stampers on the machine specially tuned by TOYOKASEI CO.,LTD―which was also used for the first Anzenchitai BEST―and made into a genuine high-end audio analog record.

We are pleased at last to be able to announce the debut of the BEST of Anzenchitai Vol.2.

Play it on your audio components and feel the soul of Anzenchitai.


Track list
 [Side A]
1. Juliet
2. 月に濡れたふたり / Tsuki ni nureta futari
3. 朝の陽ざしに君がいて / Asa no Hizashi ni kimi ga ite
4. あの頃へ / Anokoro e
5. 瞳を閉じて / Hitomi wo tojite
 [Side B]
1. 好きさ / Sukisa
2. じれったい / Jirettai
3. マスカレード / Masquerade
4. I Love Youからはじめよう / I love you kara hajimeyo
5. オレンジ / Orange
Cutting Engineer: Shigeru Buzawa
---
*Stereo Sound Exclusive Sales Item (Also at some selected audio-shops)
| | |
| --- | --- |
| Released | 27th February, 2020 |
| Format | Vinyl, LP (1 disc), 33 1/3 RPM, 180g |
| Genre | Japanese popular songs |